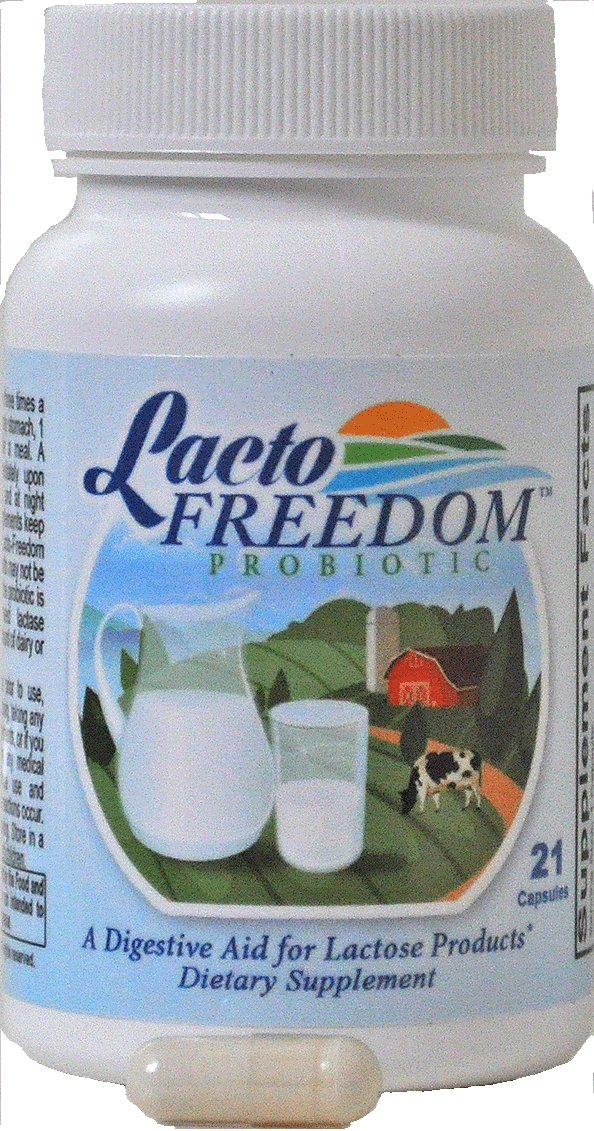 "I ended up buying it, and it's good, AND true! I took this in the end of May, and I'm still having the positive effects of being 'tolerant' again. When it does wear off, I plan on buying it again because I no longer live in a constant fear of getting sick, and I enjoy eating food again."
​
"I was very surprised that I did not get some major issues again.I was able to drink milk without digestive issues.It took a little over a week to see dramatic results but it lasted for a few months."
​
"I waited about 3 or 4 days after I finished my last dosage and cooked up a nice Digiorno cheese pizza. Ate about 3 pieces and chased it with a full glass of milk. What happened next? Nothing. Not even a growl or rumble.
This stuff works!"
Imagine YOU with no dairy problems!
NEW breakthrough probiotic offers months of freedom
from gas, diarrhea, bloating, and cramping from dairy.
One seven-day regimen of Lacto-Freedom can help prevent the effects of lactose issues - from several weeks to several months. Lacto-Freedom leverages the body's own gut bacteria system - the microbiome - to help digest dairy products before they cause problems.

Other lactose remedies require ingestion before each meal so their chemicals can mix with food right in your stomach. Lacto-Freedom doesn't work that way, so you don't have to carry meds with you everywhere you go. The secret is to empower the body to do its job, and not rely on chemical medicines to just treat surface problems.

Lacto-Freedom makes its home in the gut microbiome, the factory where the body makes and deploys enzymes that perform the digestive functions. It adds back the enzymes for lactose that many people are missing.

Lacto-Freedom's clinically proven and patented formula of probiotic continues to perform long after the seven-day regimen ends. Customers report the effects still going strong as long as six months later.

Ken Manzo, a licensed Registered Pharmacist, developed and perfected Lactofreedom. It is American made, using American-sourced ingredients.
​
Lacto-Freedom is only $19.99 plus $3 shipping per order. Please try a bottle today and see what life is like without constantly screening for dairy.
"Its amazing how well it worked for me. INCREDIBLE. The second supply lasted 2-1/2 to 3 months for me. Before this I would avoid all dairy or take 3 lactaid pills at dinner, 1 more in the middle, and 1 more at the end. Lacto-Freedom is a game changer!"
"Can't tell you how many times I've gotten caught without and couldn't eat something I really loved because it had dairy in it. I tried these and THEY REALLY WORKED. I'm able to eat anything dairy without a second thought. You've changed my life!"